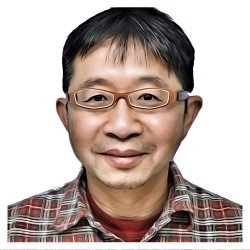 Chris Wen-chao Li
Professor
Phone: (415) 338-1034
Email: wenchao@sfsu.edu
Location: Humanities Building, Room 338
Office Hours:
Mon:
1:00 p.m. - 1:50 p.m.
Fri:
1:00 p.m. - 1:50 p.m.
Chris Wen-Chao Li is Professor of Linguistics at the Department of Modern Languages & Literatures at San Francisco State University, where he teaches courses in general linguistics, news writing, advanced Chinese language and translation/interpretation. Prior to the present appointment, he taught English, linguistics and translation studies at National Taiwan Normal University, and lectured on Chinese language and poetry at the University of Minnesota. He has also served as Adjunct Professor in Translation at the Middlebury Institute of International Studies at Monterey, and worked as a Chinese language current affairs producer for the British Broadcasting Corporation (BBC) World Service in London.
Li received his masters and doctoral degrees in General Linguistics and Comparative Philology from Oxford University, where his research focused on Mandarin sound change and Chinese phonology. He is the author of A Diachronically-Motivated Segmental Phonology of Mandarin Chinese (New York: Peter Lang, 1999), Media Chinese (Taipei: Shita Books, 2005), the Routledge Course in Chinese Media Literacy (London: Routledge, 2016) and numerous scholarly treatises on language and translation. His translations of Chinese prose and poetry have appeared in Renditions (Hong Kong) and The Chinese Pen (Taipei). His current research interests include sound change, language contact, diglossia, phonological translation, Chinese romanization systems, and the phonological description of Mandarin Chinese varieties.
For a full list of Chris Wen-chao Li's publications and scholarly work, visit his San Francisco State University Faculty Page.
Additional information can be found at the following sources: Google Scholar Profile, ResearchGate, Academia.edu, LinkedIn.