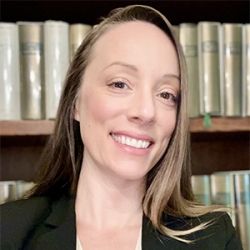 Anne Linton
Associate Professor
Phone: (415) 338-6061
Email: aelinton@sfsu.edu
Location: Humanities Building, Room 535
Office Hours:
Thu:
1:00 p.m. - 3:00 p.m.
&a.m.p; by appt; make appt to get zoom link
Anne E. Linton is Associate Professor of French at San Francisco State University. She is the author of Unmaking Sex: The Gender Outlaws of Nineteenth-Century France (Cambridge University Press, 2022) and the co-editor of "Photography in the Body in Nineteenth-Century France," a special volume of Yale French Studies (Yale University Press, 2021), as well as numerous essays on diverse aspects of nineteenth-century French culture. Her recent articles have appeared in Representations, Yale French Studies, Romanic Review, the French Review, and Nineteenth-Century French Studies, among others. Anne holds a PhD from Yale University, where her dissertation won the Marguerite Peyre Prize for best dissertation in French, and an MA in French from the University of Wisconsin, Madison. She earned her BA, summa cum laude, from Washington University in St. Louis, with a double major in French and International Business.
Anne's interdisciplinary research explores intersections of law, medicine, sexuality, and literature in French during the nineteenth and twentieth centuries. Her work spans multiple genres by centering literary close readings within broader cultural and historical frameworks. Anne's areas of teaching and research expertise include gender and sexuality studies, and both canonical and marginalized writers in French. Her first book, Unmaking Sex: The Gender Outlaws of Nineteenth-Century France, offers a cultural history of intersex across medical, legal, and literary discourses. It follows both the lives of those born with bodily sex variations in the past, as well as ideas about nonbinary sex during the long nineteenth century. Her second book project grounds literary imaginings of gender crossings within nineteenth-century technologies that were beginning to realize the potential to modify the body itself.