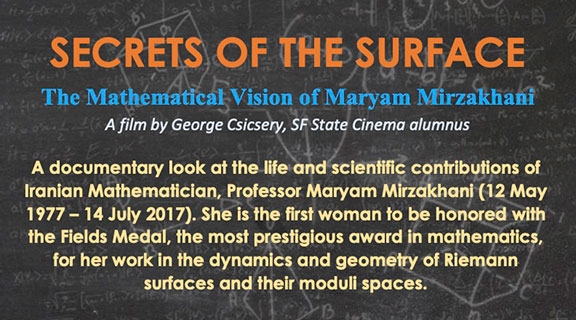 Secrets of the Surface
Thursday, May 04, 2023
Event Time
03:30 p.m. - 05:30 p.m. PT
Location
Coppola Theater, Fine Arts Building
Contact Email
mitraara@sfsu.edu
Overview
Join us a screening and discussion of the The Mathematical Vision of Maryam Mirzakhani, a film by George Csicsery and SF State Cinema alumnus.
This documentary looks at the life and scientific contributions of Iranian Mathematician, Professor Maryam Mirzakhani (12 May 1977 – 14 July 2017). She is the first woman to be honored with the Fields Medal, the most prestigious award in mathematics, for her work in the dynamics and geometry of Riemann surfaces and their moduli spaces.
Film screeing: 3:30–4:30 p.m.
Panel discussion: 4:30–5:30 p.m.
Panelists:
George Csicsery (Director)
Mitra Ara (Persian Studies)
Emily Clader (Mathematics)
Steven Kovacs (Cinema)
Sponsored by the School of Cinema, Department of Mathematics, Department of Modern Languages & Literatures, Persian Studies.