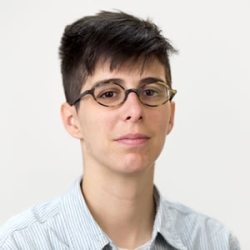 Blanca Missé
Associate Professor
Phone: (415) 338-7449
Email: bmisse@sfsu.edu
Location: Humanities Building, Room 536
Blanca Missé is an Assistant Professor of French in the Modern Languages and Literatures Department at San Francisco State University. She has a Master in Political Philosophy from the University of Paris X Nanterre (2007), and a Ph.D. in French with a Designated Emphasis in Critical Theory from the University of California Berkeley (2014). Her dissertation, French Materialism as Critique, focused particularly on the works of Diderot and La Mettrie. She specializes in the Enlightenment, 18th Century French Literature, Francophone literature and culture, 18th through 20th Century French and European philosophy, as well as Marxism and Feminist Theory. 
In the French Program she teachers French language, literature classes (The Enlightenment as well as Francophone and Postcolonial Theory), as well as courses on contemporary French and francophone culture (FR 410 on the topic of Popular Music and the Colonial Imaginary in the Francophone World, FR 421 on Social Movements in the Francophone World or FR 360 Press and Social Media in French).
Some of her published or forthcoming articles are "Une histoire intellectuelle de la Révolution française. Jonathan Israel et les déplacements des radicalités politiques" with French historian Jean-Luc Chappey from Paris I Sorbonne (Revue d'histoire des sciences humaines, October 2016); "Rameau's Nephew as an Essay Form" (Romance Studies, n. 36, 2018); "La Mettrie en miroir" (Cahiers Philosophiques, n. 157, 2019); "Diderot and Aphoristic Writing" (Eighteenth Century, Theory and Interpretation), and on La Mettrie's Homme Plante. She is currently continuing her work on "materialist aesthetics" in the Enlightenment and the critique of the system form by expanding her research to Sade and Fourier.
A secondary field of research is the reconceptualization of the question of academic freedom from a Marxist and Spinozist perspective. She is a member of California Scholars for Academic Freedom, has delivered numerous talks in this matter, and has forthcoming publications on this matter.